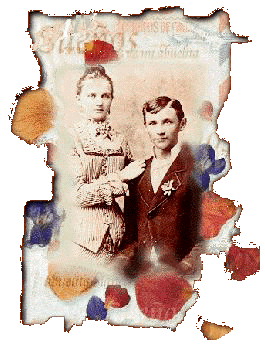 Rudolf Kottemann and Bertha Rumpf
for a full picture of them click on the one above

Fill out a Family Group Sheet and email it to me, today!
KOTTEMANN
During the late feudal period of Northern Germany the family moved from a hamlet close to a small town of the name of Steinhagen and moved sometime in the late 18th century or beginning 19th century to the village of LOXTEN (abt. 30 km West), Kreis (County) HALLE am Teutoburger Wald (this is the nothern most mountain range in Germany), Grafschaft (Earlship) MINDEN-RAVENSBERG (as it was called at that time). It is covered with fir-trees, which also call a "black" forest. You can see pictures and maps of these places if you click on the links above. These files are large and take some time to download, please be patient. This Link shows the houses as they stood in 1955. And this Link shows what it looks like today. In the old days the Kottemann's are said to be vasalls of the Lords of STOCKHAUSEN, looking after their holdings in the area of Loxten.

The meaning of this name is quite simple: Kotte = Kotten, Koetter or Kate: This is an outhouse of a big farm, where farming families are living. These families did not own the place, but had practically leased it from the big farm, including some land. As a lease they had to work a certain number of days a year for various jobs on the big farm. Mann - means simply man. Therefore - KOTTEMANN = MAN from the KOTTEN. You find a few variations of this name in the area - KOTTMANN, KOTTERMANN, KOETTERMANN - all are more common than KOTTEMANN. The first mention of the name of KOTTEMANN has been in the churchbook of the LUTHERAN church in STEINHAGEN in 1641, or 1643 or 1646 as "HEINRICH known as KOTTEMANN" was married to ???. This may be correct or not. It would be a matter to get access to the old records. We are going to see and hope that Fritz and Ursla Kottemann, the current caretakers of the homestead will help us search the locak records for more information.

In the mid 19th Century five brothers, Karl (Charles), Eugen (Eugene), Friedrich, Franz, and Heinrich came from the TEUTOBURGER WALD (Wald = forest) is the most nothern mountain range in Western Germany. They arrived via ship out of Hamburg (Ship name forthcoming) in New Orleans, LA. It is unknown how long they stayed before Heinrick returned to Germany (we believe) and Frederick and Franz moved up the Mississippi to St. Louis, MO.

Frederick is the line that my family is attached to and the one I have most information on. He came from Germany with a wife, Mary Osing from Hanover, and a son, named Frederick who was 14 years old at the time. This pattern is evident today in the location of about 70 Kottemann's in the USA that I have tracked through the internet and am currently collecting data from. The Missouri Kottemann's were very German in their mannerisms.

A quick update for those who are involved in my current research... I have been very busy trying to fit the jigsaw together. There are some stories and lines where the information is short of exact, and I am trying to discern what dates are correct. As I get the information together I will post it here. I am currently readying a letter to the Kottemann's in Germany. I have about 20 addresses. I will also be working to get hard copies out to those Kottemann's who have requested a copy. Trying to compile it into something other than a mess is a bit rough. I am also using Ultimate Family Tree software so if you would rather I email you the file or send it by disk then let me know.

Special thanks to Richard H. Kottemann, Gerhard H. Kottemann, Helen F. Kottemann, Stanley C. Kottemann, Rudy Kottemann, James A. Kottemann, James B. Kottemann, and Bill Kottemann for all your input.
Tina Denise Kottemann Line:

BOLGER 1899 St. Louis, MO
BRAEUTIGAM, Edward
BUECKLER, George
DAVIS 1873 & 1881
DUNN 1871 Vincennes,IN.
MERRIFIELD, 1842
Bruceville, IN and Kentucky...
ELLIS, Johann Maria
KOTTEMANN 1870's
New Orleans, LA / 1890'2 St. Louis, Mo
GABEL 1799 & 1851
GETZ, Emily
HARRIS, Anna Maria
LAUGEMANN, Morgan Katherine W.C.
MALONE 1846 ? (Ireland or Holland)
MARZUERILLI, Anna C.
MILLS, Emily Elizabeth & Henry
MOLLER 1840 ? (Hamburg, Germany)
OBERHEIDE 1822 - 1896 (Germany?)
O'BRIEN 1896 St. Louis, MO.
RUMPF 1854 - 1872
SCHENGBER 1827 - 1857
SCHEPPLE, Herman Johan, Johann Herman, Marie Anna
STAHL, Hannah
STEEN PA...
WAGNER, Christian F. Maria Louisa
WEISE, Katherine
WINKLE, Byron

Neill Clark Spence Fierros Line:

ANDERSON approx 1910 Sweden
BRITTLES
BRUMBAUGH 1860 MO
CHAPMAN 1906
CLARK, VAN 1900's Noti, OR and Corpus Cristi, TX
COON 1900 Chilicothe, MO
DECK 1875 IL
HENDRICKSON 1850
LANTZ 1902 & 1824 Browning, Lynne Co. MO. Bought what is now Browning MO. Owned first oil well there.
MINNIS 1754 ?. Settled near Tyrone Co. PA during Revolution. Returned to Ireland around 1788 to marry. 1794 ?. First Sheriff of Linn/Howard Co. MO 1837. Took first county census 1840.
McCAMMON, Nancy Susan
SPENCE Decantur, IL B:1901
(Also Orgento, IL 1870ish and Salt Lake, UT)
OSBORNE 1906 Salt Lake, UT and MO
VAN CLARK 1900's Noti, OR and Corpus Cristi, TX
WARREN (who I have back one line to around 400AD.) WELSH 1845

At least of who I have to date - not including the lines that go through all the Kings of England, etc.

Also looking for clear lines from Aneka JANS and Everdus BOGARDUS of New York 1600's. Grandmother insists there is a connection but I can not fill in the middle!

LINKS
---
---
WHERE ARE WE NOW?, The Kottemann's of Today.
---
PICTURES OF THE WEBMEISTER'S FAMILY
---
HIGHREACHES Our own Medieval fact and fantasy domain.
---
TEANAH'S DREAMSCAPE The WebMeister's personal pages.
---
DAUGHTERS OF THE UNION VETERANS ORIGINS & MEMORIALS The women of my family are members and my Grandmother is a past national president of the organization.
---
Old map of the GRAFSCHAFT (earldom) RAVENSBERG from 1778. (86K) Loxten is on the left lower side, but unfortunately it cannot be seen fromn the photograph Gerhard took of the map.
---
ROAD MAP OF THE LOXTEN AREA of Germany where the Kottemann family originates from. (117K) You find LOXTEN, near Versmold, between the towns Osnabrück and Bielefeld somewhat to the south of the line, which is practically the mountain range TEUTOBURGER WALD.
---
A PICTURE OF THE OLD FARM HOUSE, an arial photgraph made about 1955. The place was rebuilt in 1909 and is even today just about the same lay-out.
---
THE OLD HOMESTEAD TODAY (75K)
---
ANOTHER VIEW OF THE OLD HOMESTEAD TODAY (76K)
---
AN ANGEL IN CYBERCLOTHING Great Genealogy Resource.
---
---
GERMANY ~ E-CONFLICT WORLD ENCYCLOPEDIA
---
GERMAN - ENGLISH ON-LINE DICTIONARY
---
MEMBER
of the POD

Contact Us
Another site created by ComputedCreations
~*~ Last Updated 6/30/1999